Getting the girls out of the house in the morning is always an adventure. I try to add enough time in the schedule in case the keys are missing, the kids have lost their shoes or the cat throws up at the last second, but it seems that more often than not ALL of the contingencies hit me at once and we are usually running behind. That's why I have had to find ways to save time wherever I can, such as perfecting these time-saving hair styles.
I have two daughters, both of whom have my frizzy, curly, unruly hair. Think: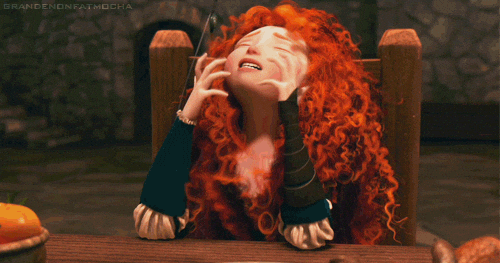 I'm so jealous of moms who can just run a comb through their kids (and/or their own) hair and be done. I've never been able to handle their hair that easily, but there's hope! These simple and cute hairstyles will have you taming your little one's hair in no time!
This is our go-to hairstyle for getting out of the house. Although I don't recommend letting your kids hair turn into a rat's nest, Lord knows I have been there! That's why the best thing about this style is that you don't need to get all the knots out first. In fact, some tangles can even aid in the look.
Gather all the hair as if you're going to make a ponytail. The hair can be as tight and slick as you want or as loose and messy as you want. We usually go for messy to add volume and save time.
Now you're going to pull the hair through the elastic, but not all the way. Twist the elastic and repeat. Keep pulling pieces through and trapping them into the messy bun. I like to pull it apart and separate pieces frequently to create more of volume, but if you prefer you can make it nice and tight.
Finish it off with your favorite hair accessory or just leave it the way it is and your little one is ready for a day on the town! (and of course, by that I mean the grocery store…)
The name gives away that this is the style we use to ballet, but this look is pretty easy and gives you GORGEOUS results so it can be used for a nice dinner, synagogue, or any other outing where you want to look like you really tried without actually having to do too much. You will need some kind of bun form for this style. I buy hair donuts like this, but you can make your own. You can crochet your own, or make one from a sock.
1. (this is the worst part) Brush the hair out. Unlike the messy bun style, you really want the knots out for this one. I like to spray my kid's hair with very diluted coconut oil or conditioner as a form of homemade detangler and then I set my sites to untangle.
2. Once you're knot-free, pull the hair into a tight slick ponytail. You can put it anywhere on the head, but I like it right on the crown of the head. I think it looks the most ballerina-y.
3. Slide the donut onto the ponytail and thread it all the way down. Now we are going to change techniques from the usual ballet bun tutorials I've seen, Usually you just wrap the ponytail around the bun while it's at the base of your head, but I've found with really little girls (3-5) that this technique doesn't allow enough hair to cover the donut, so I've developed the following to fake like your daughters have a lot more hair than they may have…
4. Smooth the donut back up the ponytail to the tip, or the top of the shortest hairs. My daughters have both cut their own hair at one time so we have had to deal with pieces being considerably shorter than other parts. If you're dealing with a similar situation, try to only slide the donut to the shorter strands.
5. Separate the ponytail tip to start wrapping around the donut and then twist the donut down the ponytail, pulling new hair up through the middle and tucking the older hair down into the bottom sides. I know this is difficult to understand at first, but once you get it, it's super easy. Try to focus on these photos to help. Adjust the hair around the donut as you go to try to cover and open parts where the hair isn't covering the donut all the way.
6. Once you've gotten all the ponytail twisted around the donut and looking like a bun, secure it with some bobby pins or a hair elastic. I like to use the little hair elastics for kids and just thread it on once around the whole bun. It won't last you all day, but it has been more than good enough for most ballet classes and I find it quicker and easier than my kids letting me shove bobby pins into their scalp.
7. These usually end for us with a giant bow or flower because it's adorable, but it's really cute on its own too. Make this bun last longer by spraying it to death with 10 lbs of hairspray and be on your way.
This is pretty self-explanatory. If you need to learn to french braid, click here. I've been braiding my girls' hair since they were really little so they sit pretty well for me most days. I generally give them a tablet or put something on my phone to help them focus on something other than me tugging on their hair. I love this style because I can always get whole day's wear out of it, and sometimes even multiple days. My oldest generally asks for one "Elsa" braid and my baby wants two "Anna" braids (Thanks Disney!) Come to think of it, every style works better for mine at least if you can call it a Disney style of some kind. The bun is like Cinderella, the top knots look like Mulan and the braids are of course from Frozen. They'll let me do almost anything to their hair if it's to mimic a princess!
Night-Before French Braid
Again, self-explanatory. We're night bathers and I find that braiding their hair when it's still damp from the bath keeps it from getting tangled while they sleep and allows it to dry in nice waves. In the morning I decide if I'll keep the braid for the day or take it out and let them sport those pretty little waves. Either way, it saves a lot of brushing and fussing time in the morning.